Fighting for
disability rights
Join our Equal World campaign
for an end to discrimination
The campaign
Equal World
Around the world, there are one billion people with disabilities. Many are routinely denied their rights to education, employment, health care and political participation, and during the COVID-19 pandemic this inequality has only increased. The Equal World campaign exists to call for disability rights to be upheld worldwide.
Before the pandemic, as many as 33 million children with disabilities were out of school. With major global meetings being held in June and July, we're calling on world leaders to take action to address this and make sure all children with disabilities, particularly girls, can access their right to education.
Find out more about our call for inclusive education
Why we campaign
Disability discrimination affects millions of people around the world. But this is not an inevitable situation – together, we can change it.
Aparna, Zainab and Preeti
Experiences of women with disabilities during COVID-19
G7 education declaration: Sightsavers calls for girls with disabilities to be prioritised
May 2021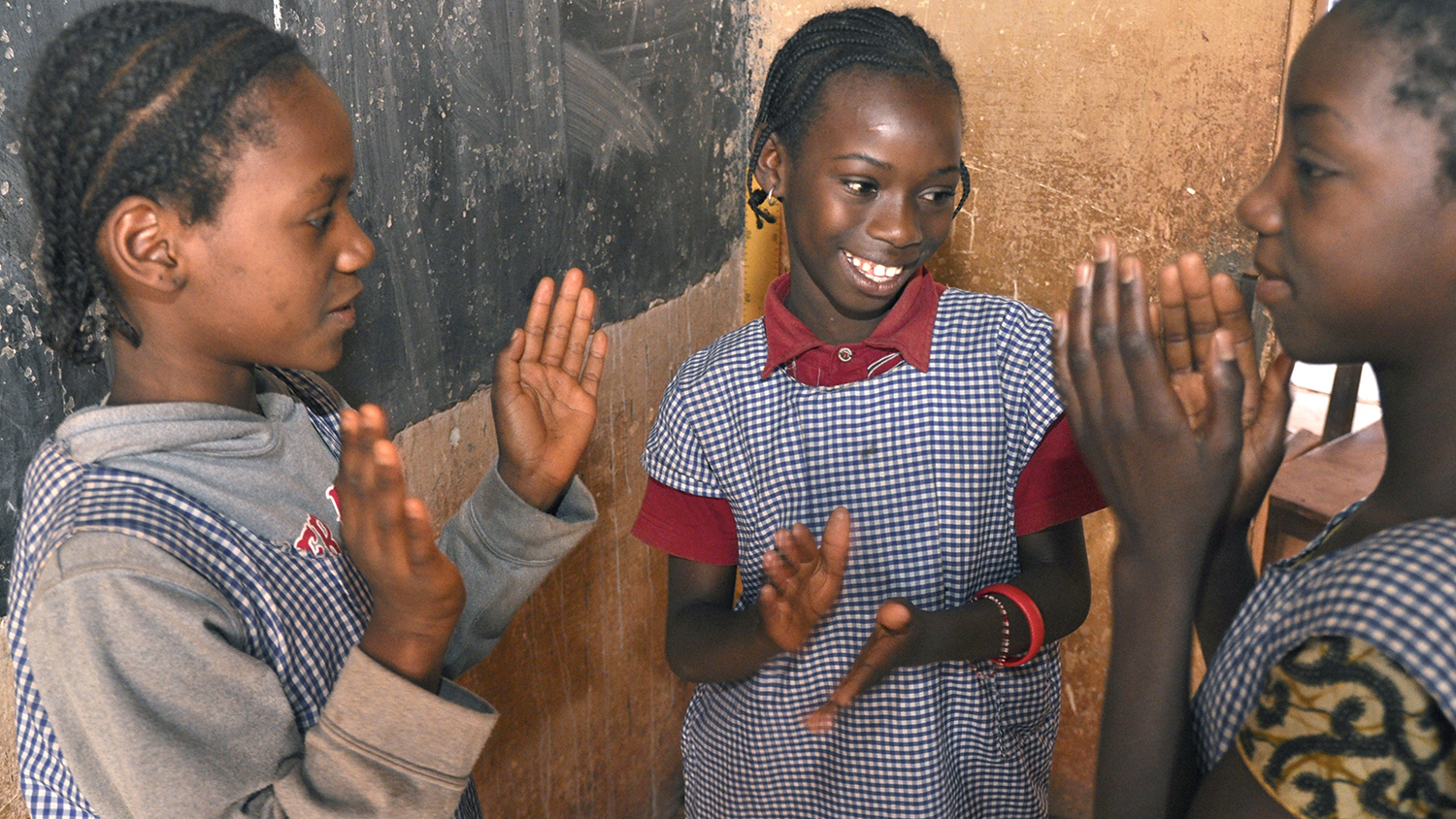 Sightsavers has welcomed news of a collective agreement signed by foreign and development ministers ahead of next month's G7 summit, and has called for financial and political commitments to be met to achieve bold targets on girls' education, particularly for girls with disabilities.
Dominic Haslam OBE, Sightsavers' director of policy and programme strategy, said: "We welcome the G7 Girls' Education Declaration, and the commitment to get 40 million more girls into education in low and lower middle income countries by 2026. We are particularly pleased about the commitment to put the most marginalised girls at the forefront of global efforts, ensuring girls with disabilities and those living in poverty are not left behind, something that Sightsavers is calling for through our Equal World campaign.
"The declaration sets out important steps to enable children with disabilities to access quality education. But these positive intentions must be followed with clear actions. It is crucial that the commitments in the declaration are backed up by strong, equitable financial allocations in the upcoming education opportunities this year brings and by inclusive approaches embedded within national education policies and programmes.
"Before the COVID-19 pandemic, an estimated 33 million children with disabilities in low and middle income countries were not in school. Children with disabilities, especially girls, are not only less likely to attend or complete school, but also more likely to be illiterate than children without disabilities. During the pandemic, the barriers to education facing children with disabilities have increased, and some may never return to school.
"While the global focus is on investment in education, this is an opportunity that cannot be missed to ensure that children with disabilities can learn, live independent lives and reach their full potential. The agreement signed today must be followed by concrete commitments at the G7 and Global Education summits. With the support of campaigners around the world, Sightsavers' Equal World campaign is calling on leaders to take action to meet education targets in a way that will leave no child behind.
"We look forward to seeing these discussions continue at the G7 Summit in June. We call on world leaders to endorse the Girls' Education Declaration and highlight the importance of ensuring education is equitable and inclusive in the G7 Summit Leaders Communiqué."
Will you fight with us?
What we're calling for
The rights of people with disabilities to be upheld
Governments and organisations to show leadership on disability inclusion
People with disabilities to have a voice in the decisions that affect their lives
The UN and world leaders to be held accountable for putting inclusive policies into action
Campaigning worldwide
Together we can end disability discrimination
The UN has published a disability strategy, committing to the full inclusion and active participation of people with disabilities in all its work. We need to make sure that it translates from words to action, and results in the UN's member states making real improvements in the lives of people with disabilities around the world.
We're taking action for disability rights in countries around the world, from Bangladesh to Uganda. Find out more by choosing a country from the dropdown list below.
Join the fight for disability rights
Share
Contact
Get in touch with our campaigns team