Fighting for disability rights
Join our Equal World campaign for an end to discrimination
The campaign
#EqualWorld
Around the world, there are one billion people with disabilities. 800 million live in developing countries, and more than half are women. For many, basic human rights – to go to school, to find a job, to vote, to access health care – are routinely denied. This is caused by discrimination, and made worse by laws and policies that say all the right things but haven't been fully put into practice.
It's unacceptable that in 2020 disability rights are something we still have to fight for. But if enough of us raise our voices, we have incredible power to create a movement for change. We're calling on the UN and its member states to protect, defend and promote the rights of people with disabilities worldwide.
Why we campaign
Disability discrimination affects millions of people around the world. But this is not an inevitable situation – together, we can change it.
Get inspired
Read and share the experiences of disability activists, campaigners, and participants in Sightsavers' education, employment and empowerment programmes.
#EqualWorld: Highlights from a year of global campaigning
December 2019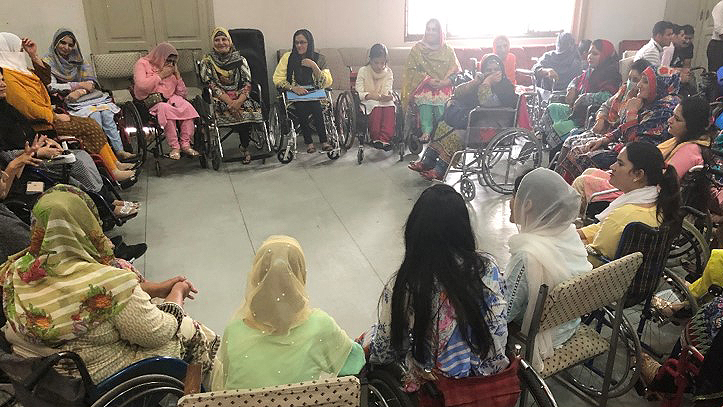 In March 2019, following five years of successful disability rights campaigning in the UK, Sightsavers launched its Equal World campaign.
This global campaign calls for the UN and its member states to ensure the rights of all people with disabilities are upheld.
In June, we launched our Equal World petition. Alongside its global call, it had national-level calls in 14 countries, pushing for progress on the passing and implementation of disability legislation. We collected signatures online, but also wanted to make sure people who might not have access to the internet could take part. To achieve this, Sightsavers' technical team developed an innovative app that allowed campaigners to gather signatures using mobile devices, which could then be transmitted to our head office once the collector was back online. This made a huge difference in reaching people who would ordinarily be excluded from participating in this type of campaigning.
The global petition gained more than 50,000 signatures, and in December it was handed in to UN under-secretary-general Ana Maria Menéndez.
We campaigned for disability rights in 14 countries around the world. Here's a roundup of the activity around the world, and some of the impact it's had so far.
Will you fight with us?
What we're calling for
The rights of people with disabilities to be upheld
Governments and organisations to show leadership on disability inclusion
People with disabilities to have a voice in the decisions that affect their lives
The UN and world leaders to be held accountable for putting inclusive policies into action
Campaigning worldwide
Together we can end disability discrimination
The UN has published a disability strategy, committing to the full inclusion and active participation of people with disabilities in all its work. We need to make sure that it translates from words to action, and results in the UN's member states making real improvements in the lives of people with disabilities around the world.
We're taking action for disability rights in countries around the world, from Bangladesh to Uganda. Find out more by choosing a country from the dropdown list below.
Join the fight for disability rights
Share
Contact
Get in touch with our campaigns team